The Ways of Performance Art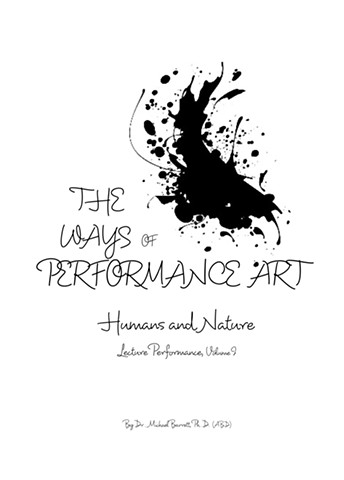 The Ways of Performance Art
By Michael Barrett, Ph.D. (ABD)
An annual lecture performance consisting of eighteen volumes. (2020-2038)
Independently published paperback and digital books.
Copies of the first volume "Humans and Nature" are available internationally on Amazon and other online bookstores. See below for links.
INTRODUCTION
I suppose most of you have heard of performance art. However, before going on to describe any details about it, I want to make one thing completely clear. I do not identify as a performance artist. I am not advocating performance art. I am not attempting to persuade anyone to it. I have nothing to sell. I am simply a human being.
That is to say, in the same sense that when you go to the market, and you hear someone playing Bob Marley on a Bluetooth speaker.
That person has nothing to sell other than the character of the lyrics or melody. They are not attempting to convert you to anything, nor do they want you to join an association in support of reggae over pop music.
I approach this lecture performance in the same spirit as a person listening to their radio. I just want you to enjoy a point of view, which I enjoy.
Lastly, the first volume "Humans and Nature" does not concern itself with academic formating. It is simply a humble guide for navigating this thing we call performance art.
- Michael Barrett, Ph.D. (ABD)
Special thanks to all of the wonderful donors and supporters living around the world. Your kindness and generosity are very much appreciated.
THANK YOU!
Abdullah Aljuffri
Becky Bekel
Marita Bullmann
Diane Bush
Mariel Carranza
Chakkrit & Pattree Chimnok
Nina Claire
Joia Villa Cox
Nerisa Del Carmen Guevara
Kim de Young
Béatrice Didier
René Donders
Denise R. Duarte
Lisa Fields Clark
Donna Guzman
Andriy Helytovych
John Herman
Brent Holmes
Andreas Hoffmann
Denise Laraine Jett
Andreja Kargačin
Mehrzad Khajenoori
Randa Reda Mahmoud
Elke Mark
Tokio Maruyama
Jeremy Miller
Elaine Mcginn
Helge Meyer
Matthew McKinley
Špagetové Monstrum
Chaiworawat Natthaphon
Antoine Parra del Pozo
Cinnamon Peel
Brian & Sarah Pendergast
Thomas Reul
Jorge Ismael Rodriguez
Evamaria Schaller
Jesse Eric Schmidt
Chad Scott
Rick Sjolie
Smith Family
Qing Sonnenberg
Sandra Stanionyte
Cindy Berry Sullivan
Fausto Grossi Terenzio
Alice Thomas
Dominic Thorpe
Surya Tüchler
Irene Valles
Craig Wyhs
Nicky Watts
Yeh Tzu-Chi
**Find your copy below!!***